CHEESY SCALLOPED POTATOES
CHEESY SCALLOPED POTATOES
Cheesy Scalloped Potatoes are a classic dish that is loved the world over. With its rich sauce and comforting cheese, this is a dish that is always a sure fire hit.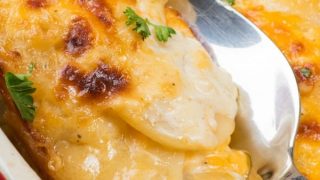 YIELD: 10-12 SERVINGS
PREP TIME 20 minutes
COOK TIME 1 hour 20 minutes
ADDITIONAL TIME 40 minutes
TOTAL TIME 2 hours 20 minutes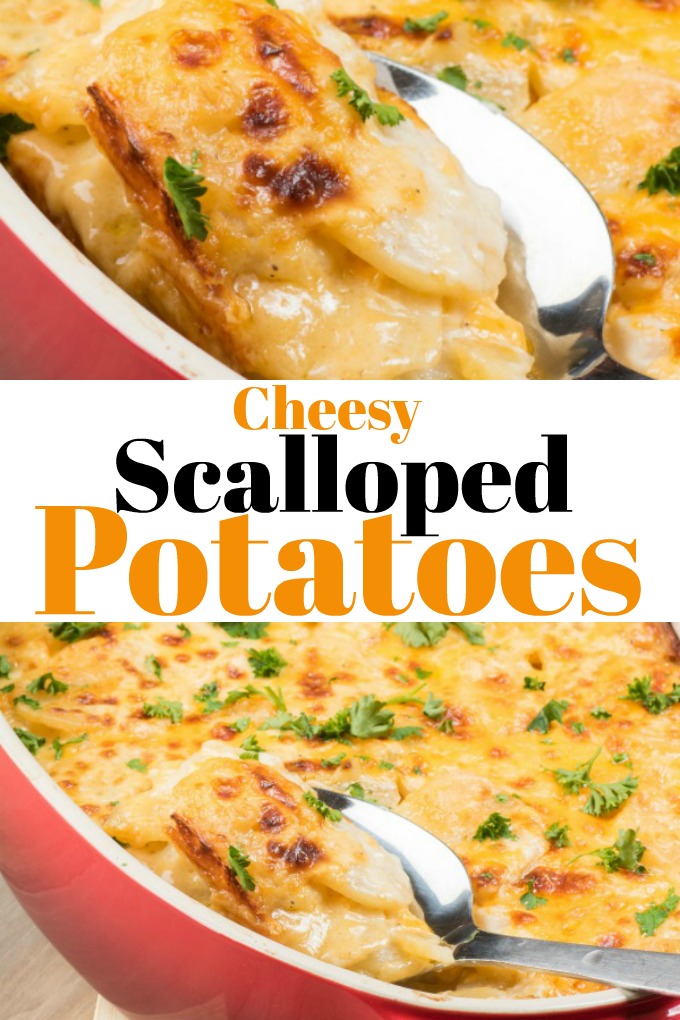 INGREDIENTS
3 Tbsp. butter
1 medium onion, diced
2 tsp. garlic, minced
3 Tbsp. flour
1/2 cup chicken or vegetable stock
2 cups 3% milk
1 tsp. salt or to taste
1/2 tsp. black pepper or to taste
1/2 tsp. paprika
3-4 lbs. russet potatoes
2 cups cheddar cheese, grated
Parsley for garnish
INSTRUCTIONS
Preheat oven to 400F.
Grease a 9x13" pan or equivalent and set aside.
In a medium saute pan add the butter and saute the onion over medium heat for about 4 min. Add the garlic and saute for another 1-2 min. Stir in the flour and cook stirring for 1 min. Whisk in the stock and milk slowly. Add in the salt, pepper and paprika. Continue to whisk until mixture bubbles and thickens. Remove from heat and set aside.
Have all ingredients prepared and then peel and slice the potatoes, into 1/8" slices. Place half of the potatoes in the bottom of the greased pan. Top with 1/2 the sauce and 1 cup of cheddar cheese. Repeat. Bake for 30-40 min. with the cover on or aluminnum foil. Then remove the lid or foil and bake for 30 min. or until bubbly, browned and the potatoes are tender.
Sprinkle with parsley and serve hot.
BERITA LENGKAP DI HALAMAN BERIKUTNYA
Halaman Berikutnya