Painted Cake
Painted Cake
A moist strawberry cake with a kiss of lemon covered in delicate buttercream flowers.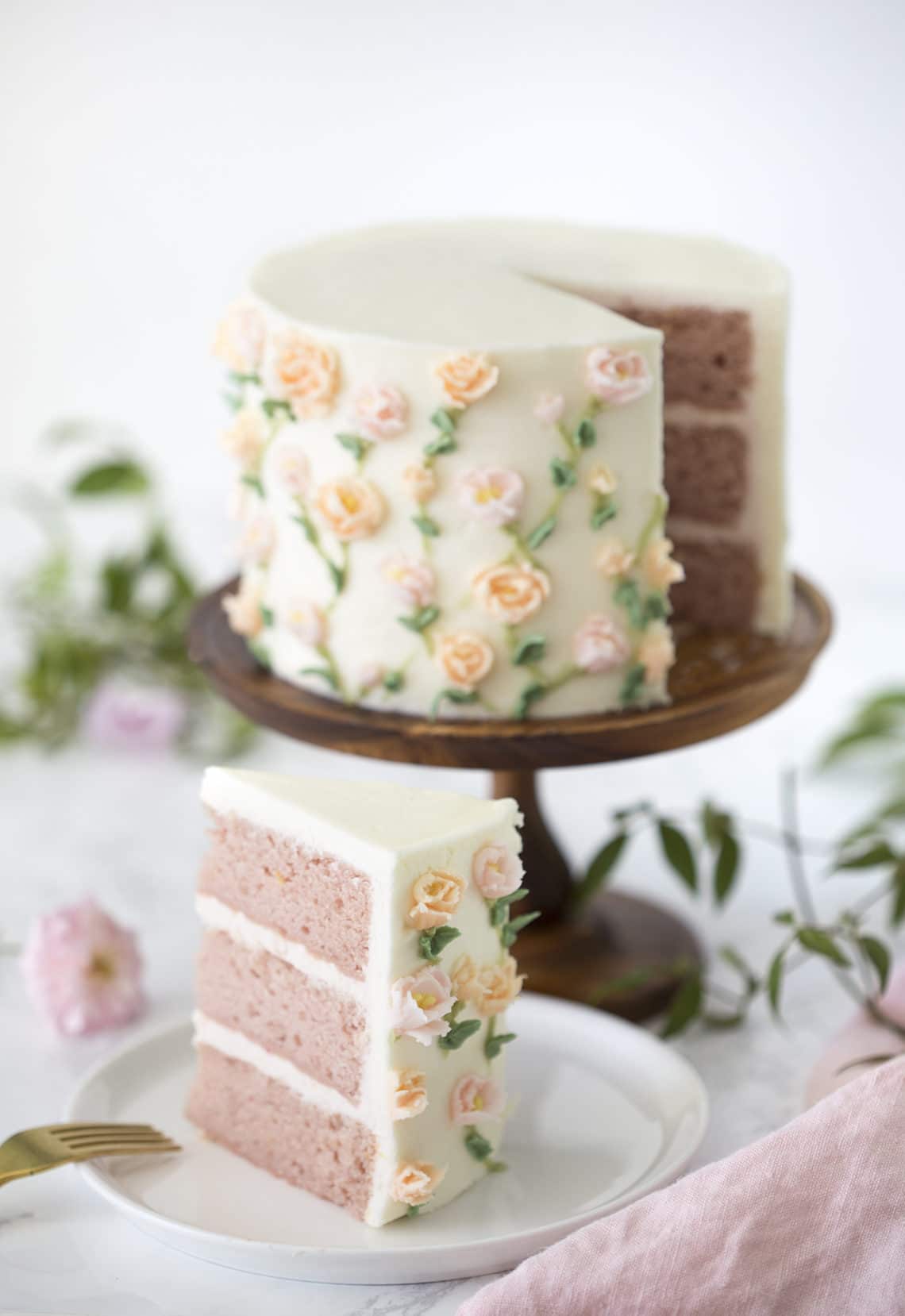 Course Dessert
Cuisine American
Prep Time 20 minutes
Cook Time 35 minutes
Total Time 50 minutes
Servings 10
Calories 240 kcal
Author John K.
INGREDIENTS
For the Cake:
1 ⅔ cup all-purpose flour 213g
1 cup granulated sugar 228g
1 tsp baking powder 3g
¼ tsp baking soda 1g
¾ cup butter 176g, room temperature or melted
¼ cup whole milk 60ml, warm
¼ cup strawberry preserves 46g, strained, warm
½ cup sour cream 120ml
3 tsp vanilla extract 10g
3 egg whites large
Pink food coloring
For the American Buttercream:
1 lb confectioners sugar 462g
2 sticks unsalted butter 228g, room temperature
1 tbsp strawberry preserve strained
2 tbsp lemon juice strained
Pink, orange and green food coloring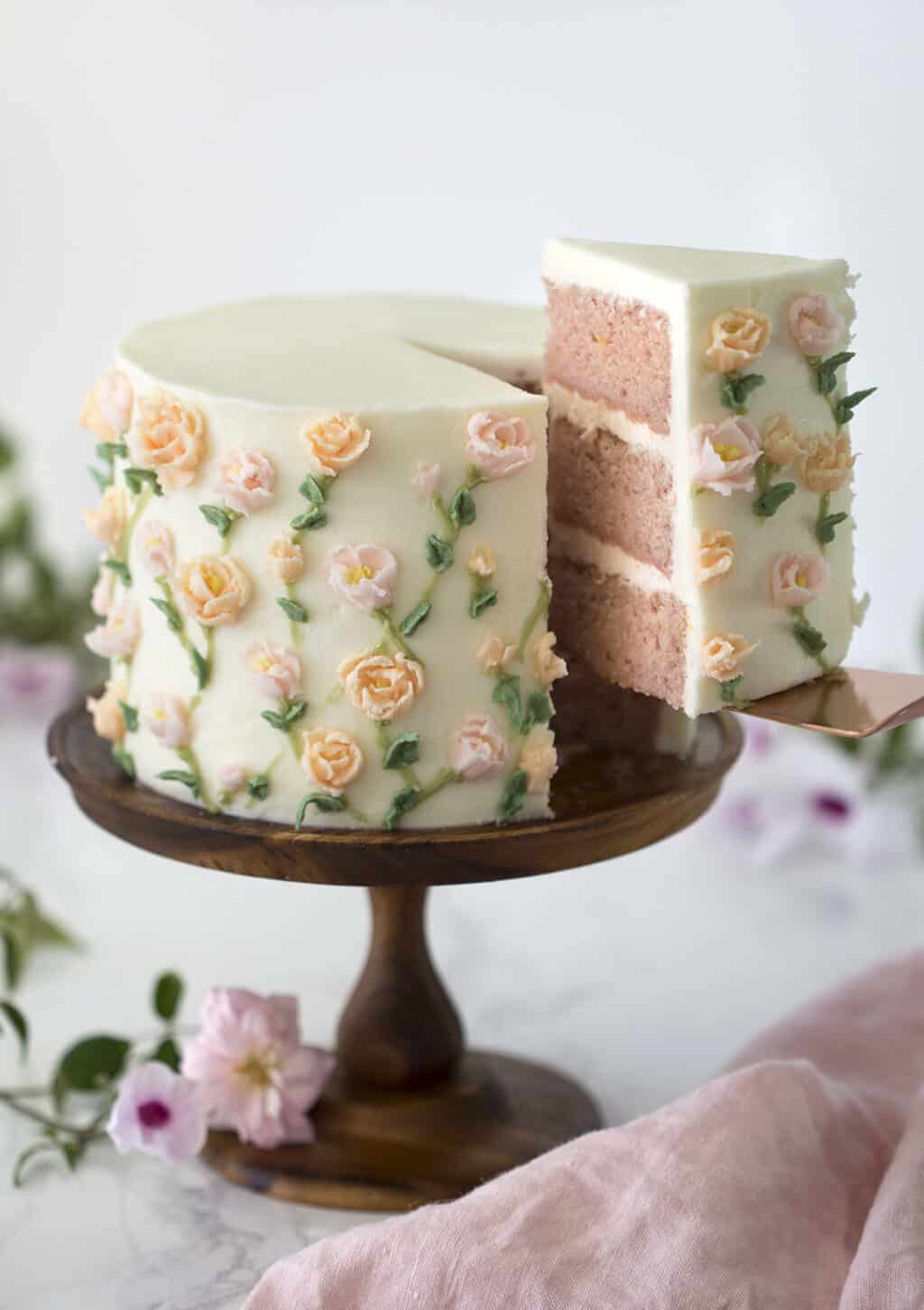 INSTRUCTIONS:
For the Cake:
Preheat oven to 340F. Butter and flour three 6-inch cake pans. Soak baking strips in water. Strain the strawberry preserves.
Sift dry ingredients (including sugar). Whisk to combine.
In another bowl, whisk together wet ingredients.
Combine wet and dry mixtures. Whisk until combined. Add a few drops of pink food coloring until a desired consistency is reached. If the batter is lumpy, it's okay!
Add damp baking strips to the cake pans.
Evenly distribute batter into pans. I like to use a kitchen scale for precision.
Bake for about 30- 35 minutes or until the centers are set and springy to the touch.
For the American Buttercream:
In a stand mixer, cream the butter until fluffy.
Sift in half of the confectioners sugar. Mix, then add the rest.
Squeeze lemon juice and combine.
Reserve ¼ cup of the white buttercream to dye green for the stems and leaves.
Transfer ½ the plain white buttercream from the standing mixer to a piping bag. Snip off the tip.
Add in 1 tbsp of strained strawberry preserves to the remaining buttercream. Mix until combined.
Save about 1-2 cups for the flowers in a separate bowl. Transfer the strawberry buttercream to a piping bag and snip off the tip.
Use food coloring to dye the buttercream different shades of pink to orange for the flowers.
For the Assembly:
Pipe the strawberry buttercream between each layer.
Crumb coat the cake and smooth with a scraper.
Pipe a thin layer of plain white buttercream on the outside of the cake. Even out with a hot scraper and offset spatula. Chill for about 30 minutes.
Using a palette knife, sculpt flowers from the pink and orange buttercream. Add details, stems and leaves.
Recipe Video
BERITA LENGKAP DI HALAMAN BERIKUTNYA
Halaman Berikutnya