SPINACH AND BACON HASH BROWN QUICHE
SPINACH AND BACON HASH BROWN QUICHE
A delightful classic quiche recipe gets an update. Spinach and bacon hash brown quiche is perfect for your brunch entertaining.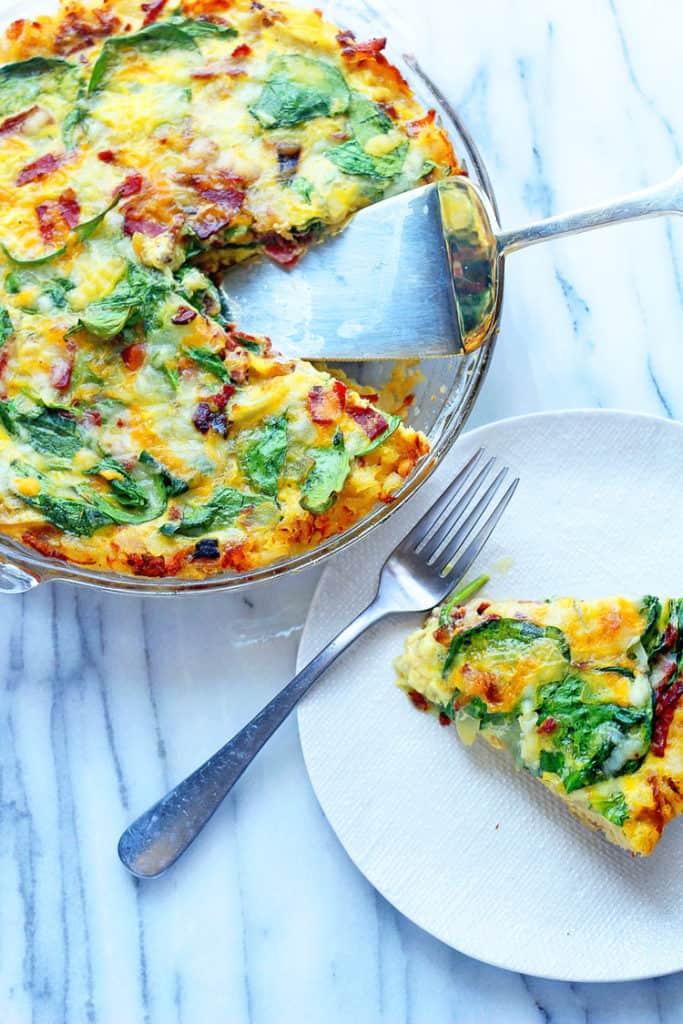 Course: Main Course
Cuisine: American
Keyword: easy recipes, kid-friendly recipes, weeknight dinner
Servings: 8 servings
Calories: 338 kcal
Author: Adapted from Better Homes and Gardens
Prep Time 10 mins
Cook Time 1 hr
Total Time 1 hr 10 mins
INGREDIENTS
2 tablespoons olive oil
20 ounces refrigerated hash browns
1/2 cup chopped onion 1 medium
6 slices bacon chopped
8 large beaten eggs
1/2 cup dairy sour cream
1/2 cup half-and-half light cream, or milk
1/4 teaspoon salt
1/8 teaspoon ground white pepper
Dash ground nutmeg optional
3 cups lightly packed chopped fresh spinach
2/3 cup shredded mozzarella cheese about 3 ounces
1/2 cup shredded Swiss cheese 2 ounces
Cherry tomatoes cut up (optional)
INSTRUCTIONS
Begin by heating olive oil over medium high heat in a non-stick skillet.
Add hash browns and continue to cook until tender and golden brown. Press hashbrowns into the bottom of a pie plate or skillet creating a crust.
Meanwhile, in a large skillet cook onion and bacon until onion is tender and bacon is crisp. Drain on paper towels.
In a bowl stir together eggs, sour cream, half-and-half, salt, pepper, and, if desired, nutmeg. Stir in onion mixture, spinach, cheeses and tomatoes.
Pour egg mixture into the hashbrown crust. Bake in the 325 degree F oven for 45 to 50 minutes or until a knife inserted near the center comes out clean. If necessary, cover edge of crust with foil to prevent overbrowning. Let stand for 10 minutes before serving. If desired, garnish with cherry tomatoes.
BERITA LENGKAP DI HALAMAN BERIKUTNYA
Halaman Berikutnya